I'm Living The Dream, Man - Saturday Centus
I've finally done it.
I'm living the dream, man

...or is it really reality? Now that I've "got it all," it seems as if everything that came before was just a dream. No babies, no house, only the life of a wanderer, with too many parties and nothing of consequence. When I look back, it feels like all those previous chapters in my life were just a movie, starring someone else. Someone almost like me, but not quite. Today I'm living the dream, but for the first time in my life, it feels like I'm really awake. Totally awake, man.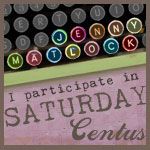 I'm participating in Saturday Centus, a writing activity where a five word prompt is given, and each writer must write exactly 100 words, including the prompt.
The rules are to keep it PG, no splitting of the prompt , play nicely, and visit the other entries. Any style or genre of writing is allowed.